The Golf Course

A Brocksolid Design
Oakwood Country Club Covid-19 guidelines:

We are open for golf as long as we abide by current rules published by the State of Ohio that are listed on the sign in the front yard near the parking lot. The clubhouse is open for use as are the restrooms and locker rooms. We have drinks and water in the refrigerators. However, we must not congregate inside with more than 10 people in a single room at any time. This means no card playing (poker, left right center or similar games) or dining together as a group at this time. Golf carts should not be shared between non-family members. The holes have been filled with foam to keep the balls on top. There should be no touching or removal of the flags. Golfers should maintain the recommended 6 foot spacing at all times on the course. If you bring a brown bag lunch to golf day or if you wish to use the new gas club grill on the deck, please maintain the 6' spacing on the deck and the 10 person limit. We will have condiments and paper plates, etc. in the upstairs fridge and bar. We want everyone to enjoy the club even in this limited capacity until everything is open and back to normal. These new conditions are for everyone's safety. Please respect each other and have a great time! A strong reminder to anyone who is feeling ill or has a fever. Please stay home until you are healthy. We recommend that everyone thoroughly wash their hands both before and after golfing.

We encourage you to view this site in its entirety to discover the mystique of this unusual golf and social club.

First, a little history: Oakwood Country Club is the outgrowth of a small group of men who would gather on weekends at a little cottage near Navarre called the Wade Inn. Early in 1922, Henry Firestone gave these men a grant of land on what was known as the Firestone Farm. The site is where Oakwood is now located. Charter members included Adam Shirk, Bill Leed, George Wade, Paul Walton, Bill Clark, Paul Hartung, Frank Cavender, Cal Zimmer, Earl Young, Warren Weimer and Nate Wright. Their first on-site club house was built with their own hands and cost $1,200.

Plans were made and dreams began to take form. Horses and plows dug the foundation and material was frugally acquired. When an old Canton bank building was razed, the large beam in the building was acquired. The oak paneling in the current ballroom came from the bank boardroom. The members were diligent workers and the building was quickly under roof, provided with power and gained its own life. It is rumored that a great deal of the project planning and hard work was supplemented by the barrels of fortification found in the Firestone basement bar.

In 1924, Bill Clark brought several golf clubs and a few 10-cent golf balls to the club. So much interest was shown in this new game that swampy pastureland was rolled out and three holes of golf were created. It was not until July 4, 1929, that the present nine hole course was opened with founding father, George Wade, driving the first ball. Many changes and improvements have followed. We call it our home away from home and refer to other members as our family. If you are interested in taking a closer look, call a person on the membership committee for a personalized visit and/or round of golf.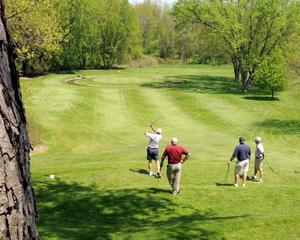 If you have any questions or comments feel free to call us at (330) 499-7211
or e-mail at info@oakwoodcountryclub.net